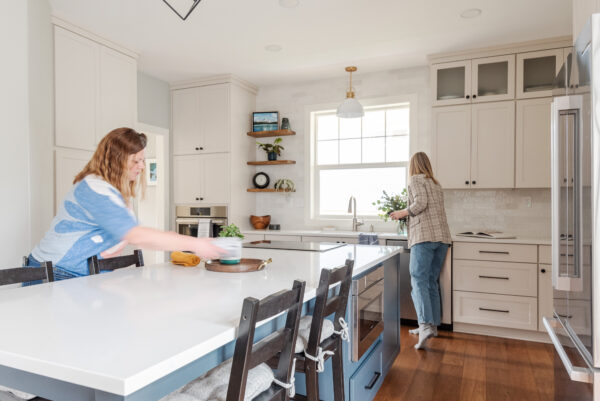 Surface Styling Package
Starting at $750 per room
+
cost of product (minimum product investment is $1,000)
If your room is looking a little tired and could use a spruce up, or if you have the major pieces in place but need the finishing touch, the surface styling package is for you! It provides you with a whole new look without changing the major pieces in a room. Perfect service for a new home transition, seasonal update, or even a holiday overlay. Surface styling varies for every space, but may include shelving accessories, coffee and side table decor, mantel art and accessories, wall art, table lamps, and throw pillows or blankets. 
Before we get your styling day on the calendar, we spend some times getting to know your personal style and what your space needs. We ask that you:
Fill out the styling inquiry form to receive a project quote

Review your customized quote and accessories cost estimate

Accept terms, pay invoice, and book your video call to unpack your aesthetic preferences and accessories budget level
We'll go over everything in the video call so you know what to expect, including a cost estimate of your accessories to make sure you're comfortable and excited for styling day. The cost really depends on your space – do you have wall-to-wall shelving, or just a few accent tables? Do you need art and lamps or just small accessories? It is smart to plan for $1,000 – $3,000 depending on your needs. The most expensive part of styling a space is art.
If original art pieces are on your wish list, we're happy to help with that! During the project inquiry process, we'll get to know your aesthetic and goals and help you source the art. We do not commission art as part of the surface styling package. If you are interested in bespoke art created specially for your space, please consider our full service design package.
After your initial zoom call, it's about 3 weeks until install day. We shop in-person and online, so sometimes we are waiting for that perfect piece to arrive. If custom art is part of the styling package, it may take a little longer for framing.
For install day, it is best when you aren't home or not using the space – then you get the wonderful feeling of walking into a totally refreshed space.
The actual install could be anywhere from 2 – 5 hours depending on your space.
You have 72 hours to let us know which returnable* accessories you do not like and then you will receive your final invoice.
*some art/accessories are non-returnable
(Most small accessories and lamps are returnable. Most art is not returnable – especially if it's framed or custom. This doesn't worry us – it is why we have a detailed project kick off process to get to know your needs, wish list, and preferred aesthetic.)
TERMS AND CONDITIONS
Design fees are refundable only before work starts on the project. All custom products are non-returnable. Any non custom products are subject to manufacturer return policy and any applicable restocking or shipping fees at the cost of the client.
Kith & Kin Interiors cannot guarantee any fabric, material, or article against fading, wearing or latent defects over and above the manufacturer's warranty.
Kith and Kin may document the project in progress and once completed by photography or other means, which may be used for publicity purposes.
Designer shall be held harmless for relying on the accuracy of information provided by the Client.